10 tips (and questions) to help you hire the ideal photographer for your wedding


BLOG-BANNER 10 consejos para contratar el fotógrafo idealJavier Olivero. Destination Wedding Photographer in Puerto Rico
If you need to choose the ideal photographer to capture your wedding day, I suggest you relax and analyze some of the features that the right one should have, because there are as many photographers as grains of sand on a beach. This is one of the most critical investments and you should take your time to recognize and identify the details that will make them the photographer of the most important day of your life. For this to happen, you should prepare a list of questions and tasks before meeting the potential photographer, so that the appointment will clear all your doubts.
These questions should be legitimate and appropriate, and demonstrate that you did your homework about the photographer and your needs. I recommend you avoid questions made to impress – Or intimidate. It's better for you to take advantage of the opportunity to meet the photographer and start a conversation. This is essential for a successful interview.
Now I will share with you a list of 10 tasks and relevant questions to help you make sure you hire the ideal photographer for your wedding day:
---
1. Which photographic style you prefer? Which do you identify with the most? Do you like a traditional style? Classic? Editorial? Glamour? Photojournalism? Modern? Mixed? Do you like pictures with a lot of filters and touch-ups? Do you prefer them more natural-looking? All of this can be overwhelming, especially when you're not a photographer. A lot of people recommend that you ask yourself these questions and then address them to your photographer to identify their style. What I recommend is to think deeply about this question: What was the reason why you wanted an appointment/interview with this particular photographer? Was it because you already liked their style and pictures? If the answer is "yes", the style issue can be pushed to the background. Even without knowing the specifics of each photography style, your eyes, tastes, preference, and heart will automatically click inside of you when you spot what you really like – Guaranteed. If the answer is "no", then your connection with their photographic style is not a priority. Once you can determine which style you like, it will be much easier to select or reject potential photographers without much hassle.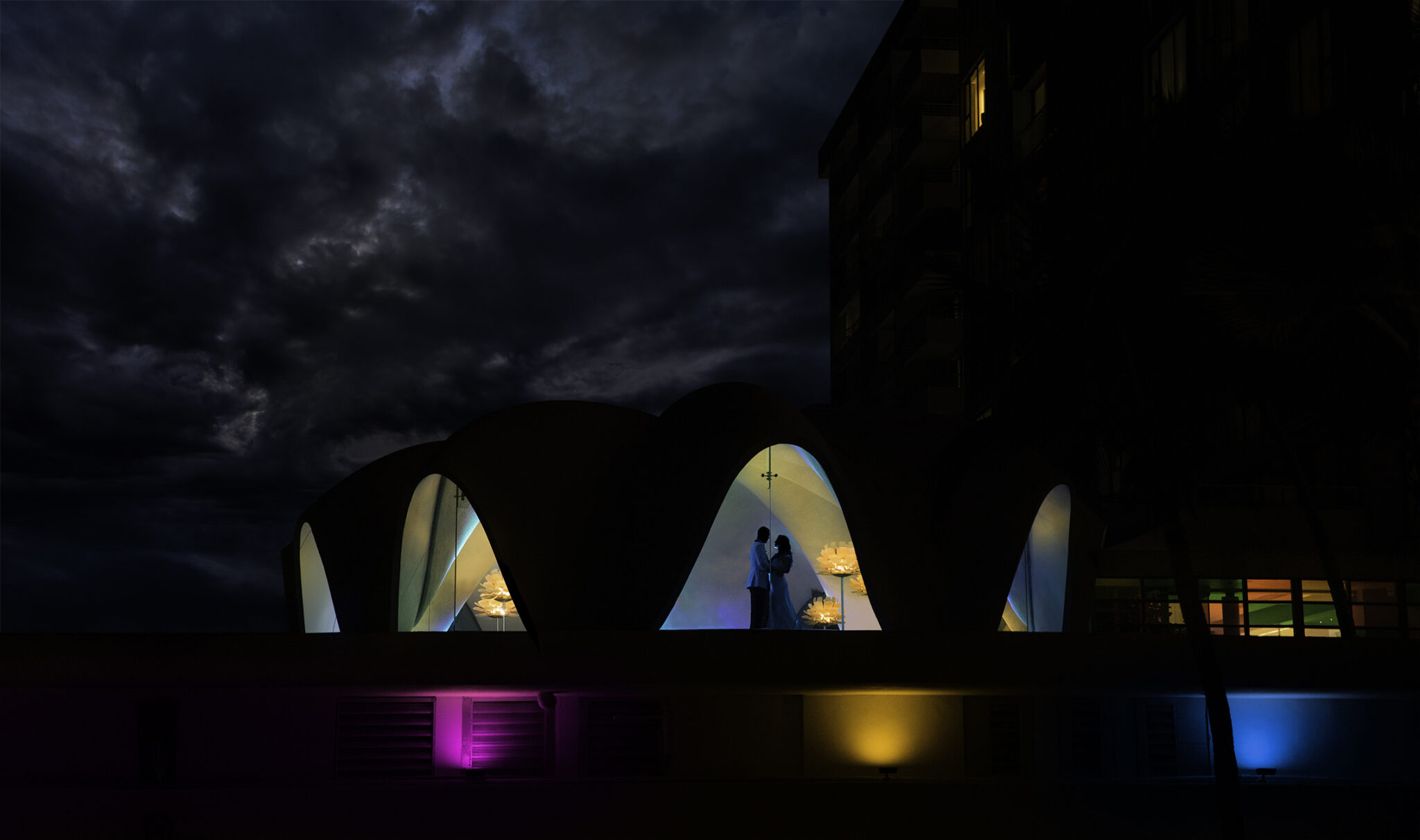 ---
2. Budget isn't everything, but your tastes and budget should go hand in hand with reality – Do you want it all? The best photographer?The one who takes the most beautiful pictures? Do you want the biggest, prettiest album? Do you want more than one photographer? As you can see, the service options for that day are varied, but the more services you desire, the more money they will cost. However, you should select photographers you like first, and then choose one among them within your budget (in that order). This can be controversial to some people, particularly those who wish to save as much as possible. But the truth is, most couples have a bigger budget to allocate to photography than they say they do. If pictures are really that important for you, a photographer is an investment you will not regret. This service is the one that will capture the events and memories for the rest of your life. You must choose the ideal photographer. One you really like and feel glad you chose. Do not interview any photographer without knowing first whether at least their basic package is within your budget. Everything else will follow naturally.

Indian Wedding @ Old San Juan, PRJavier Olivero. Destination Wedding Photographer in Puerto Rico
---
3. Invest quality time in your search for the ideal photographer – It does not matter where you're going to get married, you will find at least a dozen photographers to choose from. The time you dedicate to your quest for the ideal photographer should not go by in a hurry, or while you're hungry or sleepy. It should be used in the most efficient way possible, because the photographer should adapt to your style, tastes, needs, and budget, in that order. Do not leave it for last, because the best photographers will be the first to go busy and they may not be available on your wedding day. You should choose among the photographers you like best, not the ones who are available.


How to do your online search for a good wedding photographer.Javier Olivero. Destination Wedding Photographer in Puerto RicoMain search engines for wedding photographers: Website, Google, WeddingWire, Facebook, and Instagram.
---
4. Browse through their online content and social media – Check out their websites for examples of their entire body of work. Verify that their content is up to your standards, and above all, that their portfolio is consistent. If something in their work instills doubts, dismiss them and look for other options. Visit their blogs and social media to get the chance to see a wider variety of real weddings and different scenarios. This will give you the chance to know the photographer in a more personal way before the interview. There are couples who take this even further: They check whether their lifestyle, language, and values published on their social media matches theirs. If the photographer can't convince you with the best they have for display on the Internet, a personal appointment will not do it either. Make a pre-selection of at least three or four photographers to meet in person or through a web conference, if the distance is a factor. When you visit the grocery store looking for produce, you take the time to choose the freshest and most luscious fruit, isn't that right? Well, if you do this with fruit, then you should also take the time for something as significant as your wedding photographer.


Do your social media search for a good wedding photographer.Social media search. Javier Olivero. Destination Wedding Photographer in Puerto RicoDo a social media search as well for a good wedding photographer.
---
5. Chemistry, trust, sense of humor, and respect are essential – One of the factors that drive the final decision is the chemistry, trust, sense of humor, and respect shown by the photographer towards the couple, and eventually developing among them. One common mistake to avoid is hiring services from an ill-tempered, irritable, dull, or cocky photographer, just because they take nice pictures. Remember that your photographer will be next to you, your friends, and your family the entire day, sharing private and intimate moments on the most important day of your life. You need someone who makes you feel relaxed, serene, trusting, and happy. As you can see, choosing the best photographer is not only about the prettiest pictures.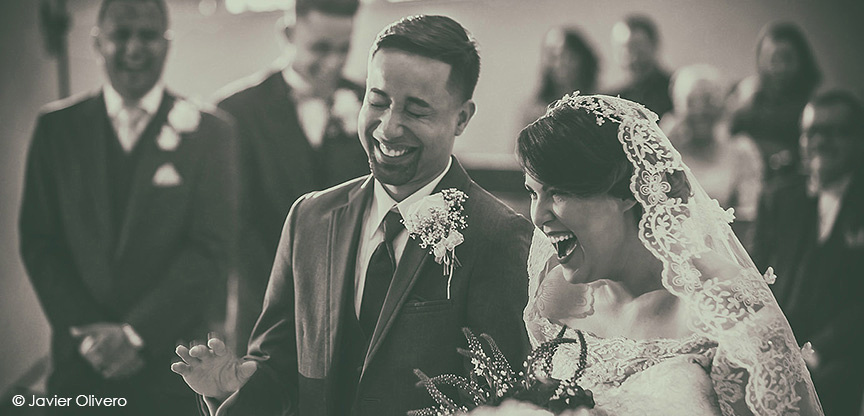 Capturar las expresiones y emociones es fundamentalSocial media search. Javier Olivero. Destination Wedding Photographer in Puerto Rico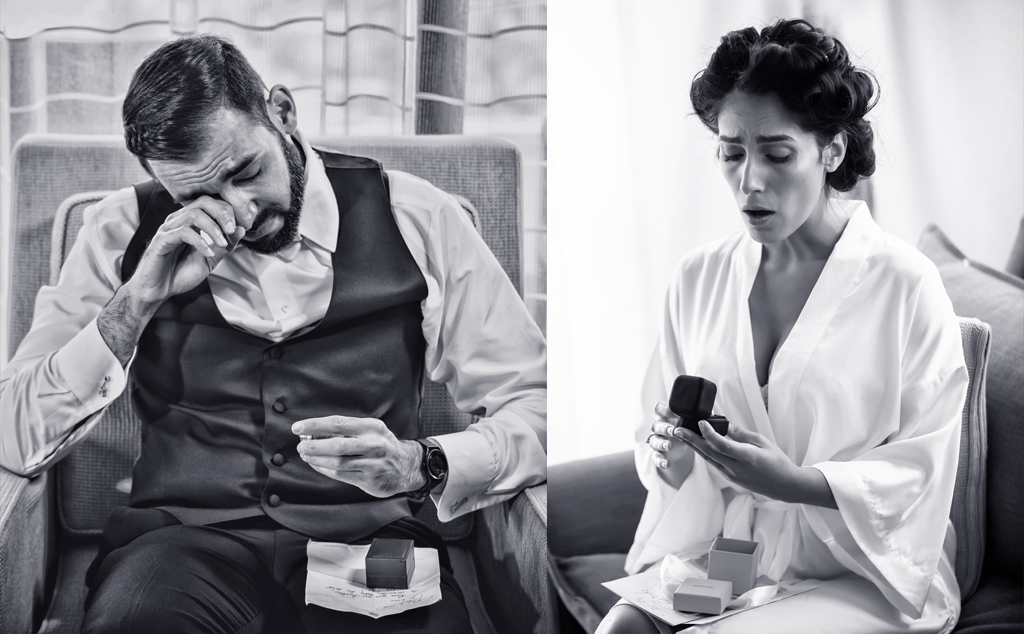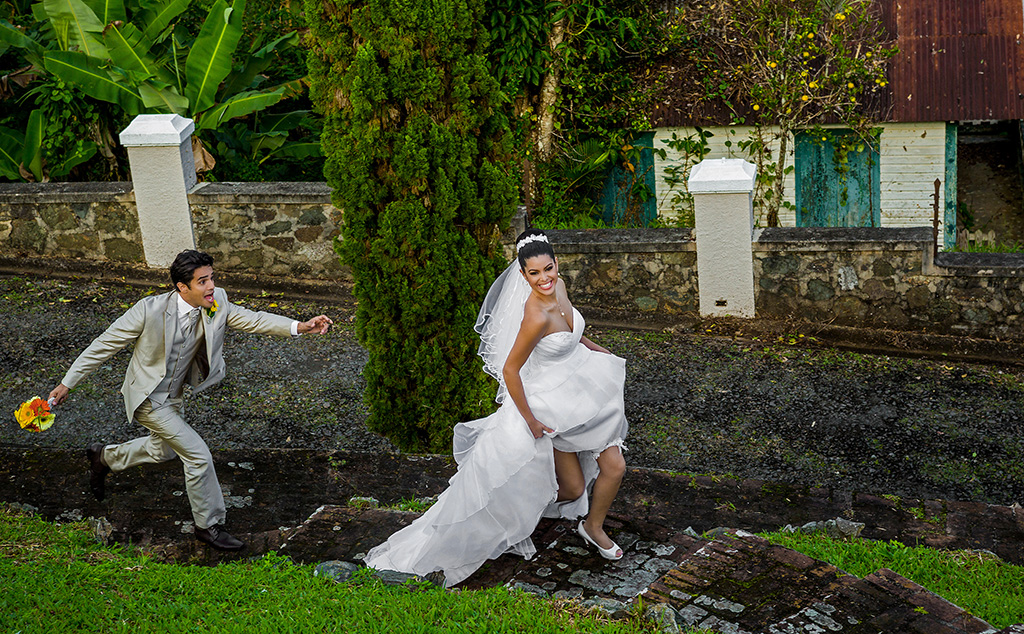 Remember: In a wedding, there is no second chance to capture an emotion. © Javier Olivero
---
6. Research their reputation, testimonials, and reviews – Testimonials and references from previous clients are another main factor that will help you make a final decision about your ideal photographer. Before booking a hotel, you will normally check TripAdvisor to see what has been the experience of previous guests, and know their overall rating. This way you will know whether it's worth visiting and paying for their services. In the same vein, you should know what has been the experience of your potential photographer's previous customers. Websites such as WeddingWire provide the option to read the testimonials and see the rating of the photographers listed there; a service specialized in weddings. If your photographer is listed in WeddingWire, it will be a great idea to read what it is said about them.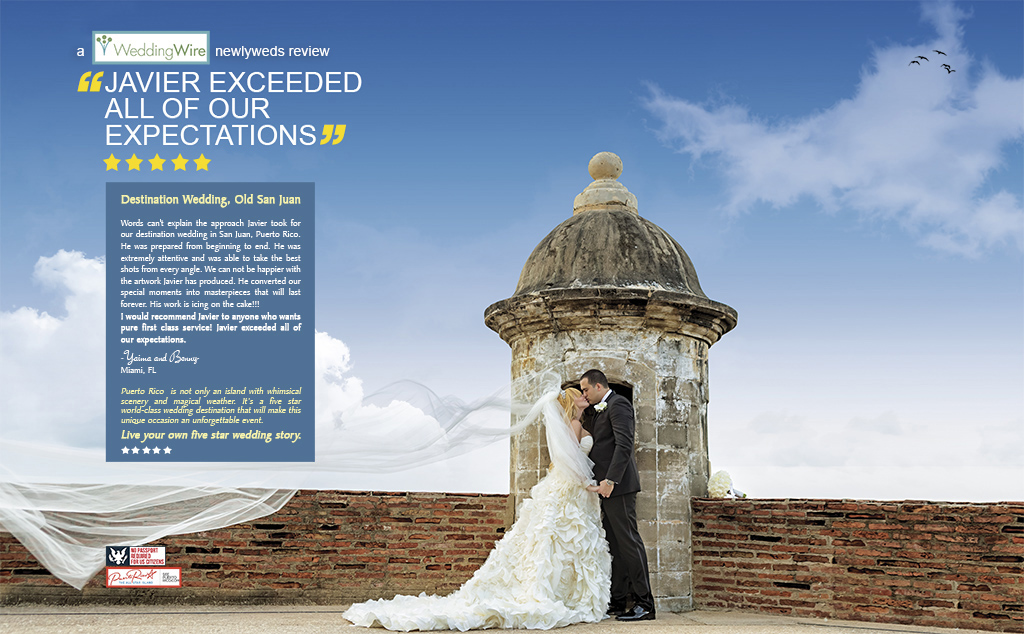 ---
7. Take advantage of the photographer's experience – Ask them if they have serviced weddings in the same venue where your ceremony or reception will take place, and in case that they have, ask for some samples, online or otherwise. This is a key factor that will help you feel whether the pictures will be up to your expectations.It is also an opportunity to get acquainted with your wedding venue if you haven't visited yet. A wedding is an ensemble of events that should run smoothly so that all the pictures (and the wedding) unfold as planned. Most of these elements conspire in favor or against the pictures and may affect the final result. Consider all the factors that could interfere with the smooth flow of the event, such as the weather, itinerary changes, punctuality of the bride and groom, an accident, damage to the photographic equipment, etc. Only an experienced photographer will be able to solve any seemingly impossible issues, which will be a huge relief.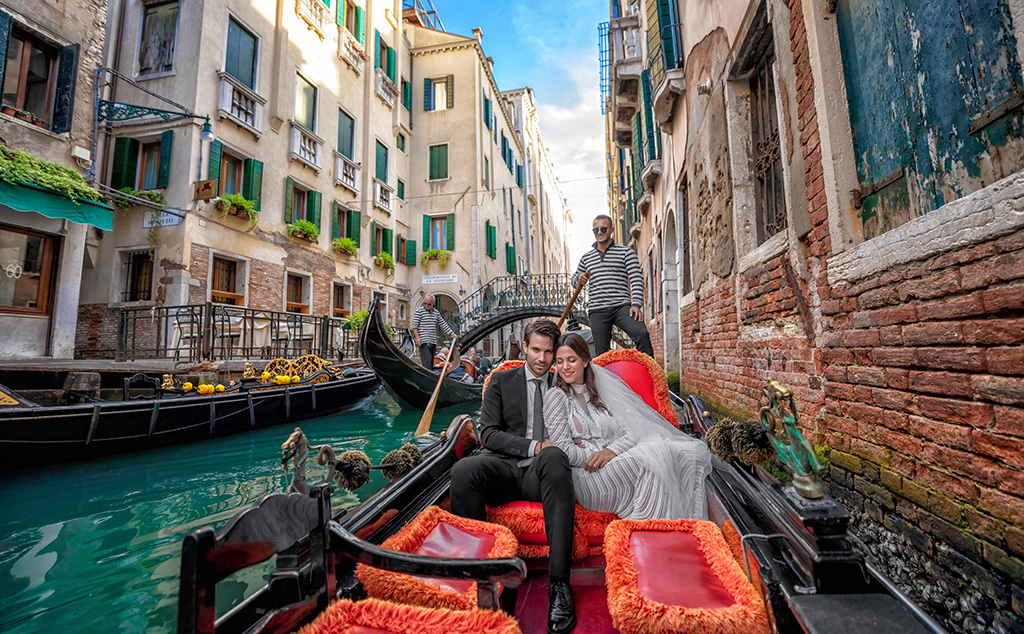 Sunset at Old San Juan, Puerto RicoJavier Olivero. Destination Wedding Photographer in Puerto Rico
---
8. Inspect the album samples carefully – If you have the chance, try to scrutinize their entire album stocks available. Albums are their business cards and a sample of the final work that you will receive (in case it is what you want). You should be very attentive to the following details: The kind of album, quality, size, type of paper, materials, durability, warranty, the way the photographer designs and retouches the pictures, etc. The album shall be the script for a love story, carefully told by the arrangements of its elements. IMPORTANT: You must make sure that the size, style, and design of the surveyed samples will be similar to the album you will receive, in order to avoid misunderstandings. Sometimes the final product may not look like the samples you checked.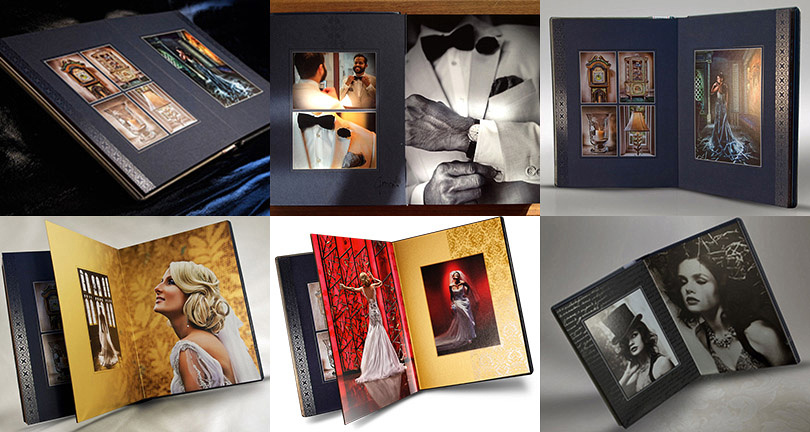 ---
9. Make sure that their business is legitimate, serious, and responsible – This goes hand in hand with experience and reputation. Every couple likes nice pictures, but as we have said above, not everything is about how pretty the pictures are. Today, anyone interested in photography may go to a store, buy a camera, open a fan page on Facebook and create a website. They will be more or less able to produce acceptable pictures, and from that moment all they will become pseudo-photographer.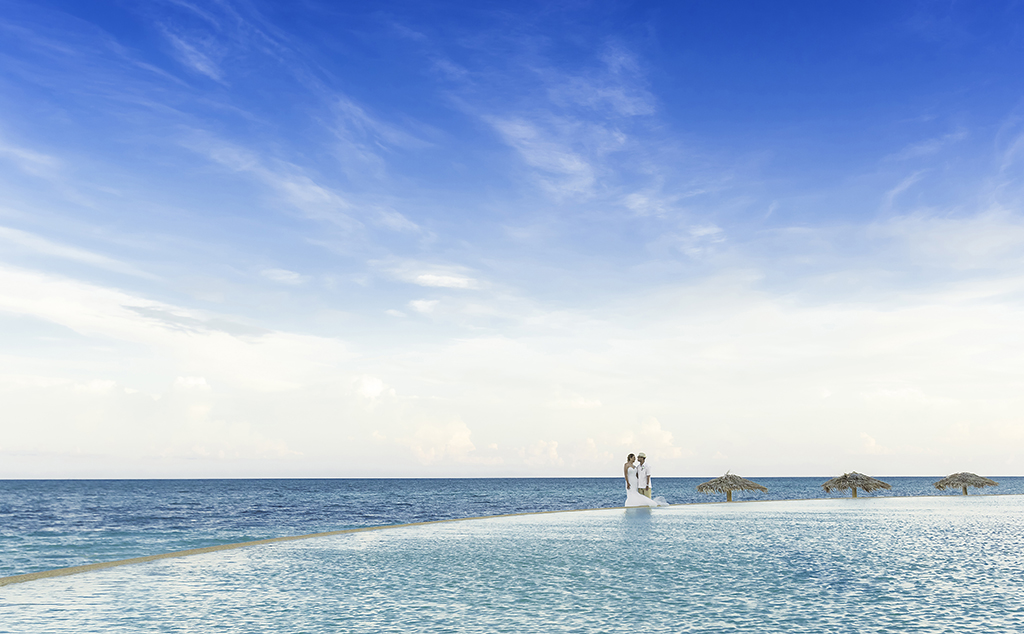 All knowledge must be acquired, but before we can run we must learn to walk, and only after having mastered crawling, all in due time. But, what if the unexpected happens? An accident, an interruption, suddenly the wedding is at night or outdoors,  an off-the-script event, and you are forced to make radical changes or raise a complaint? Only a responsible, legitimate photographer with a lawful business can provide assurance and commitment since they will be available to offer alternatives and effective solutions to your needs. On the contrary, the risk of a wedding turning into a nightmare will be very high.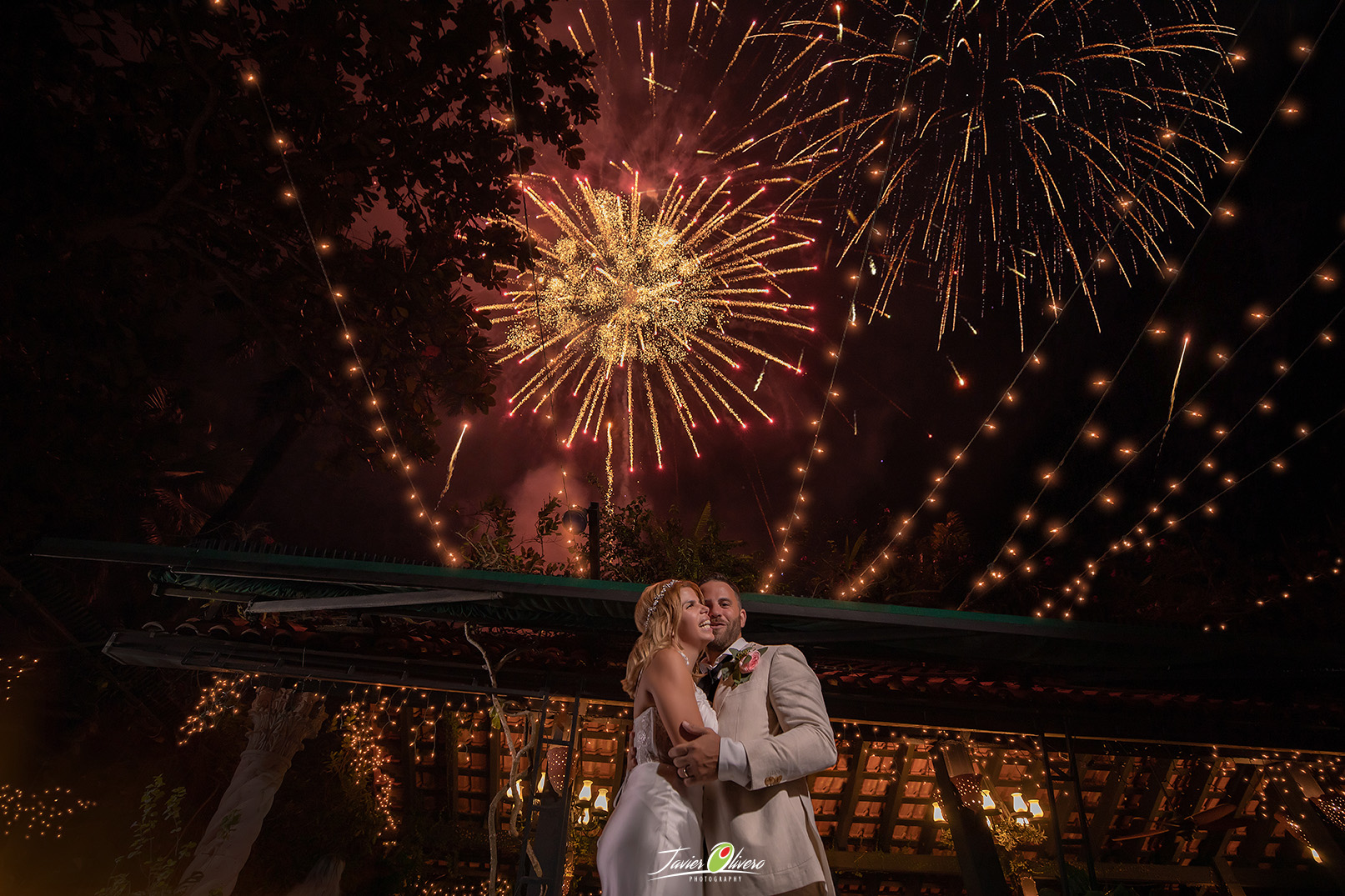 Candid shot of bridal partyJavier Olivero. Destination Wedding Photographer in Puerto Rico
---
10. Be prepared for your appointment and have a list of questions ready to clear all your doubts – Do your homework and make all the questions you find relevant to your needs and expectations. Within our website, you will find a Frequently Asked Questions area where you can read more in-depth about choosing a photographer. Nobody likes to think about the worst-case scenario because your wedding is supposed to be a happy occasion, but anything unexpected may threaten a wedding, which is why I suggest you make the prospective photographer the following questions:
a. Do you have any document evidencing the legitimacy of your business? Any serious photographer with their papers up-to-date will gladly answer your questions and will not be upset by it.
b. Do you have an office or studio where we can meet? A meeting in a shopping mall is not sophisticated or even appropriate.
c. Are you insured? An uninsured photographer is a huge risk in case of accidents. This is relevant not only for you but for the venue of the wedding and reception. Some agencies, venues, and hotels demand that any person providing their services in their facilities is insured by a public liability policy.
d. Do you have enough equipment (and backup) to be able to respond in case something happens? All good photographers will always have a backup.
e. Do you have a substitute photographer who can cover for you in case you cannot make it to the event? Photographers always have friends photographers who can help if an emergency happens.
f. What will be the dress code of the wedding? Remember that the photographer must be dressed appropriately for the event.
g. Shall we provide meals to you (the photographer) and your team? – Nobody has the obligation to provide food for anybody. However, many photographers have a clause in their contracts about this subject, making the agreement easier. The photographer is one of the people who work the hardest and longest to make your day spectacular, and they must be well fed to do that. If you can't provide meals, at least you will have to give them some time to eat, preferably at dinner-time so that they do not miss anything important. Some venues have "vendors meals". A different and cheaper meal option than your guests' menu. We must insist that this is an issue that should be addressed during the interview so that the photographer and their team can make the necessary arrangements.
h. Ask him about their itinerary on your wedding day: What time will they arrive, how much time will there be for pictures after the wedding, whether they work alone or assisted, what is their schedule, how many pictures will they take, etc.
i. What is the process to hire your services? Ask for any package, offer, bundle (if available), down payment, contract, cancellation policy, rights of use of the images, payments in advance, image editing, album production, process and time of delivery, availability and travel expenses (if any) and the total amount of the requested services.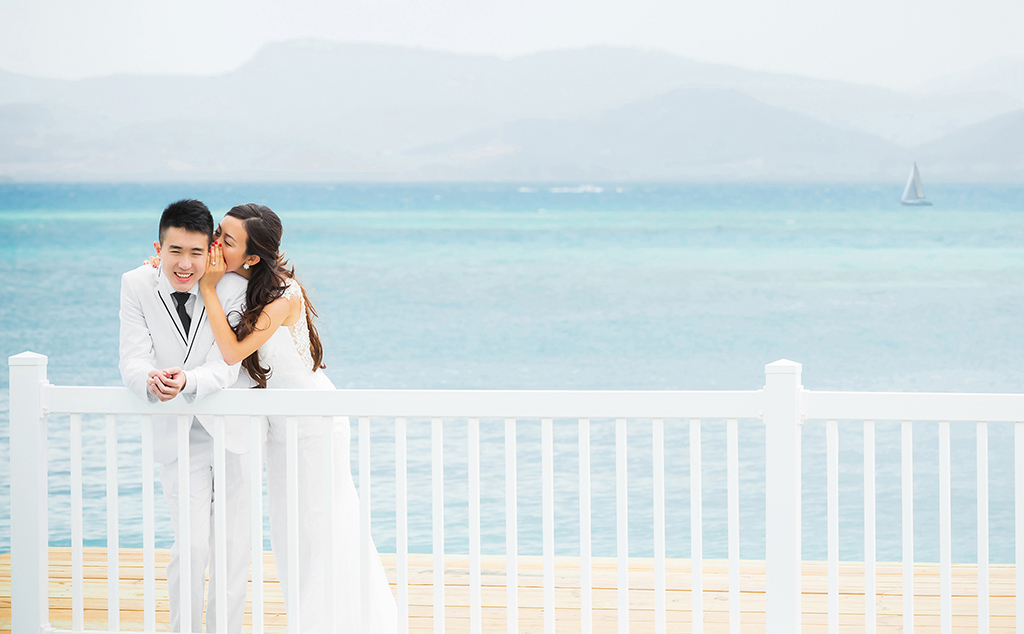 Beautiful wedding ringsJavier Olivero. Destination Wedding Photographer in Puerto Rico
---
Conclusion:
Only a responsible, experienced, and established photographer with a legitimate and lawful business will be able to offer you all the alternatives and permanent, effective, and satisfactory solutions, especially in case of any unforeseen event. The purpose of this is to make everything work splendidly and make you feel confident in the photography before, during, and after your wedding, to obtain the best results. Remember that you will not have a second chance at your wedding to make up for any mistakes, so take all the time you need to choose the best professional photographer for your wedding day.
Candid shot of bride and groomJavier Olivero. Destination Wedding Photographer in Puerto Rico
---

Link review para weddingwireWeddingwire review link